Please call us! We would love to learn more about your daughter and the kind of camp experience you're seeking for her, and help you determine if Wawenock is the right fit for your family.
Seven Weeks of Magic in Maine!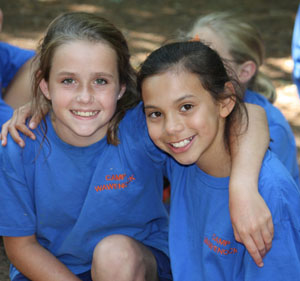 For over a century, Camp Wawenock for Girls has been a beautiful haven for all those who spend their summers here. Located on a private, sandy cove, on Sebago Lake, Maine, Wawenock's setting is stunningly beautiful. Towering pines frame Camp's land-based program and living areas while crystal clear water provides a wonderful base for the extensive waterfront activities. Created and refined over time by educators, Camp Wawenock's Program and Philosophy are based on time tested values, enduring traditions, and a practice of ongoing evaluation and improvement.
As a full-season (7 weeks) camp, Wawenock affords girls the time that is necessary to develop both their social and activity skills. As campers return, they build upon previous summers' relationships and learning, take on more formal and informal leadership roles and soon come to believe and live the words, "This Camp Is Yours!"
Call for more information: 207.655.4657