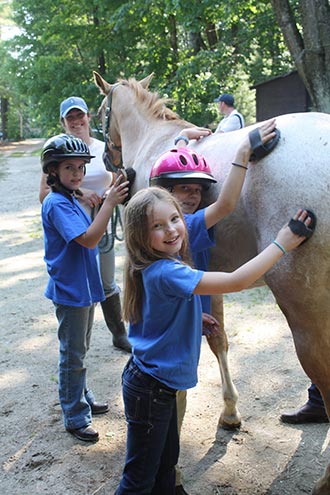 The Program at Camp Wawenock is structured and consistent, with significant choice built in for all ages of campers. At the beginning of the summer, girls select activities they wish to focus on for the full season, providing consistent instruction and an intentional focus on skill development. In addition, there are daily choice hours called "hobby hour" allowing for some spur of the moment fun! To break up the routine and to allow for additional activity choice opportunities, special program days occur each week on Thursdays and Sundays. Beyond traditional camp activities, the Wawenock Program includes opportunities for all campers to learn and practice Leadership Skills.
"Wawenock is magical because it helps each girl find inner strength and develop a strong sense of self. By encouraging girls to take risks and reach outside of their comfort zone, whether that is through living in a group environment or learning to dive for the first time, Wawenock allows children to reach beyond and develop skills and abilities they never knew they had."
Elizabeth, Alumna
Creating the Schedule of a Lifetime:
On the first day of camp, all campers select six activities they wish to focus on for the summer. This is in addition to swim instruction, which girls take five times per week. Of these six focus activities, 3 meet three times per week and the other 3 meet twice per week. The same campers and staff work together in each activity all summer long, enabling consistent instruction and maximizing skill development. Throughout each summer, and from year to year, campers work towards individual goals in their chosen activities. They are also recognized for reaching particular milestones as they develop their levels of skill and proficiency in successive summers. Older campers are given the chance to grow through grow through leadership in their activities, by mentoring peers or helping to instruct younger campers.
Additional Daily Choices:
Beyond their focus activities, girls have a daily choice period, called 'Hobby Hour,' when they can try something new or spend extra time in a favorite activity. There is also an opportunity to go to 'General Swim' at the end of each afternoon.
Special Program Days: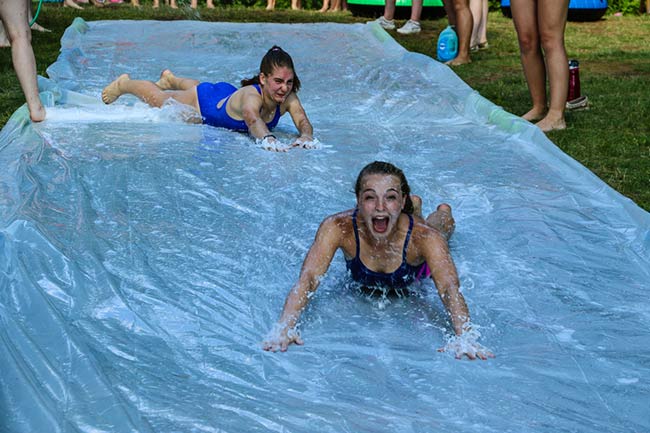 To break up the weekly routine and allow for additional activity choice opportunities, special program days occur each week on Thursdays and Sundays. On Thursdays, campers sleep a little later, enjoy a relaxing buffet breakfast in PJs, and then select from a wide range of activity choices for each hour of that day. Most regular program offerings are included in these choices, along with some 'special' ones such as: knitting, cooking, fitness, talent contests, nature hikes, sports skills clinics, Fairy House building, motor boat rides, reading and relaxing on the beach, etc. In addition, the Camp Wawenock Golf Program operates on Thursdays at a local course. Thursday afternoons may also include 'special events' like circus or carnival programs, game shows, crazy relay events, etc. All campers enjoy the freedom of choice, fun factor and spontaneity that exists in the Thursday program structure and return, refreshed, to their regular program choices the next day. Some Thursdays may even include a Maine Adventure!
On Sundays, campers again wake a little later and eat breakfast in their pajamas, then head back for a longer than usual cabin time before their morning activity. Sunday mornings are generally devoted to being with your 'Tribe'– learning songs and cheers, playing games and preparing for the afternoon's 'Meet' – in which all campers represent their tribe in friendly, activity-based competition, while singing and cheering for friends in other events. Tribe meets end with an 'all-tribe' event of some kind, in which every tribe member competes simultaneously, or successively. After the 'all-tribe' ends final cheers are sung and the campers and staff reunite with friends from either side before heading back to get cleaned up and ready for dinner. Click here for more detailed information on the Tribes.