Everything the staff does at Camp is intentional; from promoting safe risk-taking, to building relationships with campers and peers and fostering the development of social and activity-related skills. We have found over the years that Wawenock's success in these areas lies in the strength of our staff and their ability to effectively guide, lead, teach and support the campers and each other. One of our most important roles as leaders is in training, mentoring and supporting our staff, so they can be at their best for the campers! It is a privilege for us to work with staff and to partner with parents in the growth and development of their daughters.
Catriona & Andy Sangster – Directors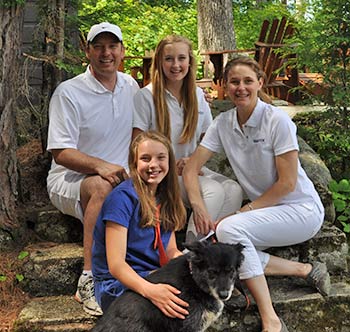 Catriona and Andy have been Directors at Wawenock since 2005. Andy has a degree in Physical Therapy and has worked as a full-time camp professional since 1992. He has an extensive sports instruction, coaching and refereeing background – stemming from a lifetime love of many sports. Catriona holds her Masters in Education and taught at the High School level before becoming a full-time camp professional in 1996. Andy and Catriona are involved in volunteering at local, regional or national levels, within the camp profession, as well as being involved with local community organizations. Andy and Catriona have two daughters, Mackenzie and Sophie, who have grown up at Camp and are now staff members.
Kristy Andrews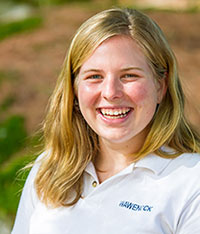 Kristy Andrews grew up as a camper, starting at age 8 in the Lodge and finishing in Wawenock's Leadership Training Program at age 16! She continued on to become a CIT and staff member, working for six summers as a cabin counselor teaching pottery, tennis, crafts, canoeing, boating, swimming and lifeguarding.
Through her years on staff, she took on more leadership and became a Unit Head and then Head of Swimming. Kristy graduated from Bates College with a BA in English and a minor in Spanish. After graduation, she spent a year in Chile teaching English. Kristy began working full time at Wawenock in September 2014 and is currently the Assistant Director and Head of the Waterfront. In addition to her work at Wawenock, Kristy is involved as a volunteer for Maine Summer Camps, helping to spearhead the Outreach Committee in the off-season. She also volunteers as a tutor for English Language Learners through Portland Adult Education.
Julie Butler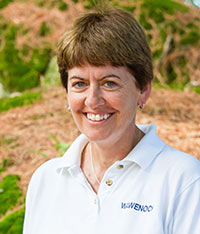 Julie Butler has spent over 30 summers at Wawenock, as both a camper and staff member. Julie has an undergraduate degree from Bentley College and a graduate degree from the Harvard University Graduate School of Education. During the year, Julie is a Math teacher at St. George's School in Rhode Island. She has also been actively involved in coaching sports at St. Georges. Julie is currently the Activities Director at Wawenock, helping to guide and support all staff in their teaching. She and her golden retriever Keeper are loved by all at Wawenock!
Julia Groff Traylor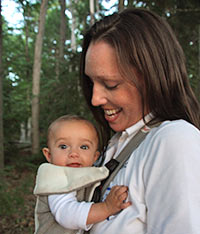 Julia was a camper for five years, staff member for eleven years and has directed the introductory Wonder Week program since 2014. During the year, Julia is an elementary school teacher in Portland, OR and mother of future camper, Emma!
Pat Smith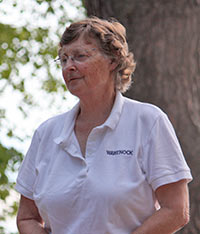 Pat Smith began her career at Wawenock as a Counselor in 1965 and remains connected as Director Emeritus. To read more about Pat, see the Camp
History page
.