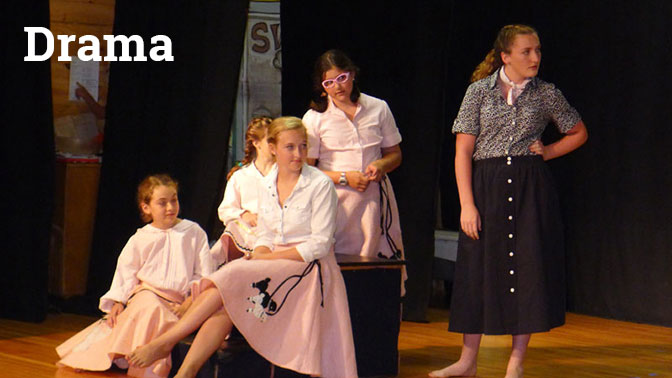 For girls with a burning desire to be on stage the Music and Drama program at Camp Wawenock offers a wide range of opportunities for campers of all ages to train and also perform in musical and dramatic activities. Wawenock's theater program celebrates a rich tradition of involving all who wish to participate, of girls striving to learn all that they can and of girls giving their all out on stage!! Girls develop confidence and skills as a performer under the guidance of staff who take a professional approach in working with children to help every girl be a star. And, Wawenock boasts the most supportive audiences imaginable!!!
Campers who choose Drama for the summer will first audition within their class for parts for a specific show (Musical or Theatrical production) and then work under the direction of staff on an end of season performance. Each child receives individualized attention which focuses on helping her develop her specific talents and build on her creative abilities. Involvement in the show, therefore, is a means to introducing or refining a specific range of core dramatic skills and Wawenock staff stress process over end results. The performances at the end of the season are for the whole Camp Family – producing a wonderful 'theatre season' for the many internal fans and also an opportunity for parents and other visitors to attend specific shows to see their children/grandchildren or friends.
Many of the shows are well known musical theater classics, performed in Ussher Lodge, the main theater building, but there are often non-musical plays, improv. or musical reviews, and even outdoor performances too, which add variety and introduce new concepts to the campers involved.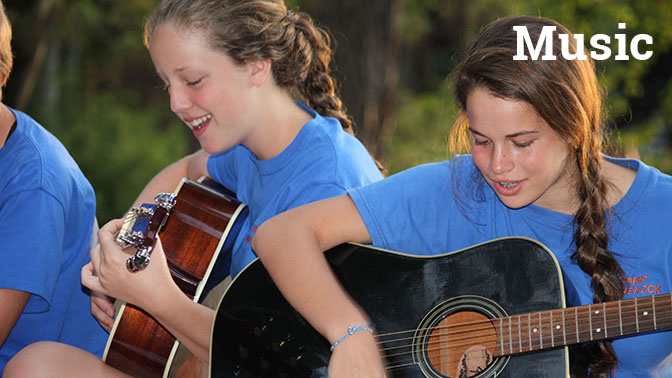 Campers may sign up for group guitar classes and/or a variety of private music lessons. In addition, campers and staff may perform in front of the Camp Family at 'Special Music' time – which occurs after dinner, on Sunday evenings. Older campers are invited to audition for 'Octet' – a camper led, a capella singing group. This group selects its own material, including traditional Octet 'staples', and performs regularly throughout the season.
Beyond the formal Music and Drama Programs, we sing all the time at Camp! And, all campers regularly appear in special programs and skits, talent shows, etc. – making Wawenock a uniquely entertaining and talent-filled place to be each summer.
Similar to the Music and Drama Program, campers who choose dance work in the same group and with the same instructors all summer. This provides a wonderful opportunity to work consistently on developing skills that are appropriate to their level, as well as learning one or more extended routines, to be included in the incredibly popular end-of-season Dance Recital/Show!