Welcome to Camp Wawenock! We hope that this website will help you begin to understand what has made this camp such a magical place for generations of campers, staff and visitors.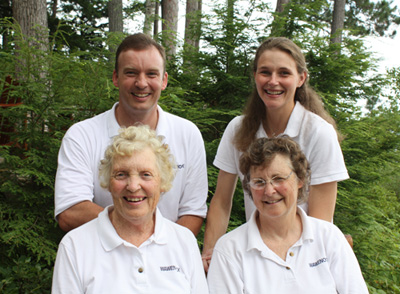 Wawenock has always been directed by educators and this fact is reflected in every aspect of camp life. We feel honored to be the current team of directors and to have had the gift of so many years working with and learning from June Gray, pictured with us above. June passed away in October 2011 but her energy, wisdom and love of Camp Wawenock remains with us. We are inspired by June's legacy and will do all we can to preserve Wawenock's educational ideals, as well as the spirit, values and natural beauty of Camp Wawenock for future generations
We have over 100 years of combined service as camp staff members, as well as many years of experience teaching, coaching and working with children and young adults in other venues. We are each involved in leading activities during the summer, as well as meeting daily with individuals and small groups of campers and staff. This, combined with maintaining open lines of communication with camper parents/guardians, helps give us first-hand knowledge of the changing needs of today's campers and the challenges facing our staff in guiding and instructing them. Everything the staff does at Camp is intentional; from promoting safe risk-taking, to building relationships with campers and peers and fostering the development of social and activity-related skills. We have found over the years that Wawenock's success in these areas lies in the strength of our staff and their ability to effectively guide, lead, teach and support the campers and each other. We are fortunate that the vast majority of our staff have grown up here at Camp, know and understand these principals, and can role model and share them with others.
We are excited by the challenge of sustaining Wawenock's incredible setting, program and ideals, while ensuring its relevance in an ever-changing world.
We encourage you to delve into these pages to learn more about what makes this place and its people so special and then please come and visit Camp or contact us if we can be of any assistance. It is a privilege for us to partner with parents in the growth and development of their daughters.
We can't wait to connect with you soon!
Andy, Catriona and Pat
(Learn what has been written about the Wawenock experience by others over the years!)