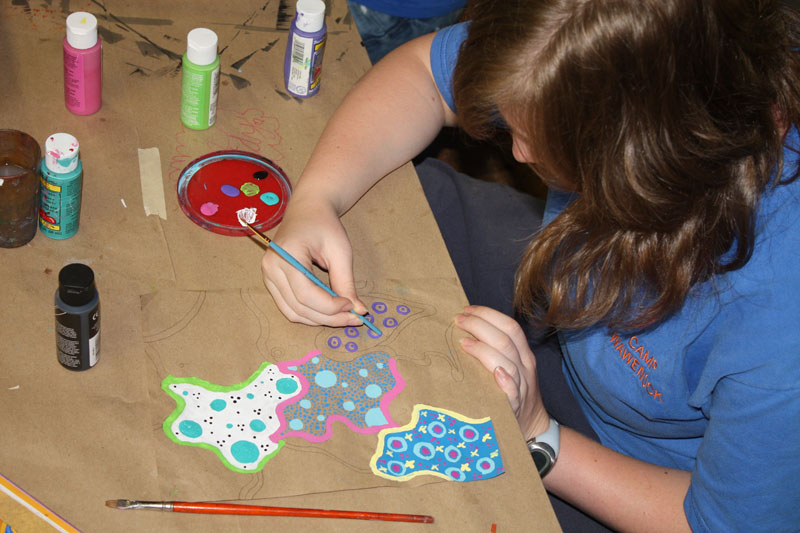 The Wawenock setting inspires many girls with a desire to express their feeling and imagination through various artistic media. The moods of the lake, beauty in a rock, relationship of friends, glory of a sunset and many other finite moments or grand views fuel this inspiration. It's common to see Wawenock art classes on the pier, lawns, beach, or Image Rocks capturing their vision or experience on a sketch or watercolor pad.
Campers who sign up for Art are exposed to a variety of different traditional media, including: watercolors, pastels and charcoal, pencil and line drawing and even oil or acrylic paints. Beyond these basics, girls may also be exposed to various forms of three dimensional art, the use of found natural objects in their work and perhaps even experiment with different sculpting techniques (non clay-based.)
In addition to coaching 'technique', instructors plan to specifically build creative thought processes and challenge girls to be original in their ideas and work, providing them with the satisfaction derived from producing something personal and unique – as well as finding an increasing self-confidence in their own creative abilities. An excellent bi-product of this individualized approach to learning is that girls also see what their classmates are doing and develop an appreciation for the ideas and creativity of others in the group. These skills and feelings transfer beautifully to support them in other areas of their lives, both in and out of Camp.
Learn more about our Pottery and Crafts programs.