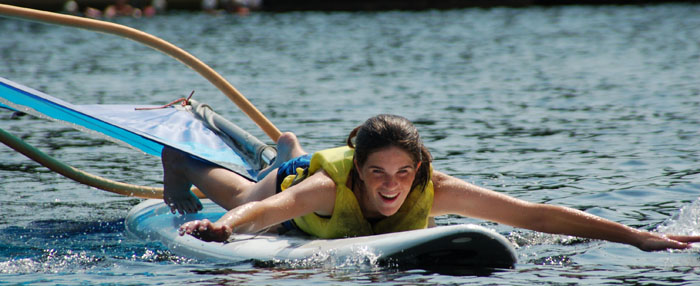 Stand up, position your feet, balance, slowly raise your sail and turn it surely into both hands… Now, feel the 'lift' as wind catches the sail and your board glides easily across the water for the first time. Though challenging, Windsurfing is lots of fun!
Windsurfing is offered to older campers who are strong swimmers. Sailing experience is not required but an understanding of sailing theory can be helpful. Instruction is on 4 long, beginner boards with Sails matched for primarily campers in the early learning stage. Windsurfers typically progress from early sessions on uphauling, turning the board and setting sail, to skills that control direction and speed such as steering, tacking, jibing and sailing a course in mild to eventually more moderate winds.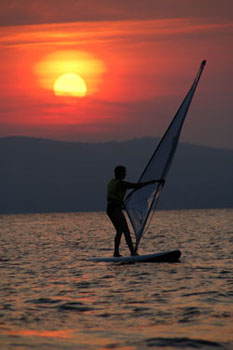 Windsurf Staff are certified Lifeguards who have attended Windsurfing Instructor Training Clinics or have previous experience teaching the activity. Counselors work with the same small group of girls for each session, allowing individual attention to skill progression. They use land drills to present and practice new skills, moving to shallow water for the first actual practice of the skill and finally to a windsurf area in the middle of the Wawenock Cove for practice and much needed time on the board. The size of the sail can also be increased for more advanced sailors.
As with all Waterfront Activities, there are 2 Windsurfing staff in each class who focus on safety, leading a girl through each progression until she masters it. A motor boat always accompanies boards in the windsurf area of the cove. There is a backup team on shore ready to respond if wind or weather changes requiring additional support.