"I highly recommend Camp Wawenock. In this day and age I would encourage any opportunity to unplug from social media and work on interpersonal skills, to go back to basics and remember what it is that adds value to our busy lives – meaningful relationships; making new friends, nurturing existing friendships and journeys of self-discovery which enhance our ability to be better friends."
Wendy Sykes, camp parent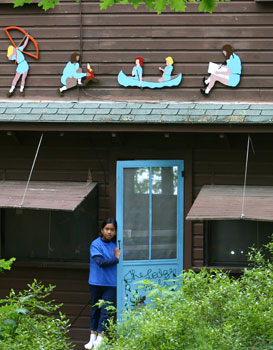 From its inception, Camp Wawenock has been continuously directed by professional educators. As such, the Camp Wawenock experience has always been based upon sound educational practices and enduring values. From the very beginning, campers have been encouraged to become an active and caring member of a welcoming community, to build both activity and social skills, and to connect with this beautiful, natural setting.
Today, we see that summers at Wawenock provide a much-needed escape from many of the negative pressures of the outside world – including the world of cliques and precocious behaviors that can be so damaging to developing girls – as well as the frantic demands of a life crammed with instant, but impersonal, modern technological communication devices – whose constant use is particularly prevalent among today's youth. At Camp, participants find themselves in a relaxed, supportive environment – one in which they can find time to reconnect, on a deeper level, with special friends and pursue existing passions while developing new friendships, skills and interests. During downtime, girls can enjoy sitting on the grass or sand and reading, playing cards, writing letters or just relaxing for a time, unfettered by outside distractions and living in that moment. We purposefully mix cabin groups each year and offer new program options as girls grow up in Camp to help facilitate the introduction of first time campers at all ages and to encourage campers to form new interests and develop close relationships over time with everyone in their age group.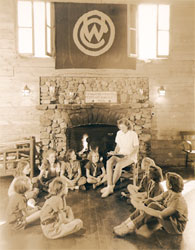 Over Camp's early decades, 10 Wawenock Spirit values were defined and began to be highlighted and recognized within the Camp Family. (Honesty, Thoughtfulness, Respect for Others, Cooperation, Effort and Initiative, Loyalty, Friendliness, Sportsmanship, Love of the Natural World and Tolerance are still celebrated in individuals at Camp today!) Some unique and fun phrases or"Wawenockisms" also developed over time that can help guide relationships, exchanges, or choices that campers or staff make in their daily lives, e.g.:"Always to help – never to hurt" can inform us how to approach interactions with another,"Don't MAJOR in MINOR things" can help us keep perspective, etc. Generations of campers and staff have embraced and perpetuated these simple ideals while having fun and making incredible friendships along the way!
Programmatically, campers choose to specialize in a number of activities, each year, and there are daily choice options and special program days, too. In addition, Camp provides unique impromptu and formal opportunities to develop and strengthen leadership and social skills. With support from a dedicated and experienced leadership team, and enough time over the seven week season to practice them, Campers and Staff develop their skills in these areas. Through these opportunities, young women develop the confidence they need to take and apply these skills and values in their lives away from Camp. The development and, ultimately, the transference of this confidence, independence and skills in activities, leadership and social interaction, is the''outcome' produced by Camp Wawenock's intentional and consistent philosophy. Some of the concepts and structure used to achieve this at Wawenock are listed below: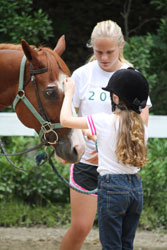 Seven Weeks
It takes time to develop meaningful relationships and progress in skills. Research, conducted and reported by the American Camp Association, has shown that traditional length, full-season camp sessions are more consistently successful in developing key, measurable activity, social and leadership skills in youngsters than those lasting four weeks or less.
Life-long Pursuits
Wawenock's program is filled with 'lifetime' sports and activities. Sailing, Tennis, Swimming, Music and Drama, Fine Art, Pottery, Crafts, Outdoor Living Skills, Archery, Riding, Golf and others all can be pursued, recreationally or competitively, long after one's active days of soccer, lacrosse, gymnastics and other 'youth-reserved' activities are over. Consequently, many campers develop life-long passions and hobbies at Camp.
Uniform Camp
Wawenock's simple, comfortable daily uniform takes away all of the stress and potential competitive issues surrounding clothing at camp, allowing girls to focus on getting to know each other in less superficial ways. Girls do personalize the area around their bed, with artwork and pictures of friends and family, while Camp provides blankets and sheets as 'uniform' for all beds, supporting the effects of the camper and staff clothing uniforms.
Stewardship, Leadership and Service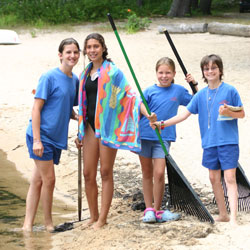 A responsibility to care for the land and water at Camp, the surrounding environment and the broader world is interwoven into many aspects of camp life, along with many structured opportunities to lead others. Wawenock works with the Portland Water District to employ erosion control practices which protect the lake as well as our own property. All campers sign up for at least one camp service project – most of which benefit the local or global environment in some way. A 'Green Team' meets regularly to work on ways in which Camp (and those who stay here) can live and operate more sustainably. Green Team members brainstorm, then analyze and educate the Camp Family on things like: water conservation, 'clean plate club', local produce purchases made by our food service, etc. Camp Wawenock is a founding member of the Maine Youth Camping Foundation Sustainability Initiative through which we share our best environmental practices with others, while additionally committing to changing one or more of our current practices, each year, to benefit the environment. Learn more about Camp Service and Leadership.
Safety
Always at the forefront of every decision we make, safety is an important part of the educational process all campers and staff go through in their time at Camp. We voluntarily participate in the American Camp Association Standards Accreditation Program which includes regular, extensive, external evaluations from trained visitors. (Three of Camp's directors are visitors themselves – demonstrating Wawenock's commitment to this process.) In the final analysis, we believe that day to day safety at Camp is not brought about by external examination, but is the result of the development of sound critical thinking and risk awareness in all community members – especially staff. Some of this is gained by education about existing rules/protocols – like the insistence on participants wearing and utilizing correctly sized and well-maintained equipment – but safety also stems from the analysis and discussion of potential risks in all areas of Camp and the vigilance of each community member. When safety is a mindset, rather than a set of rules to be remembered, all benefit. We believe that this approach has helped Camp Wawenock maintain an outstanding safety record, over time.
FUN!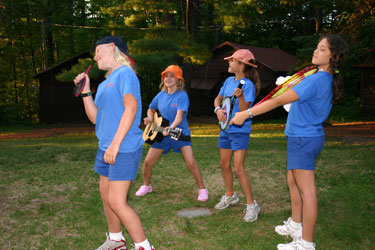 At Wawenock, one very important distinction we make is that FUN is not WHY we are here; it is a wonderful bi-product of a happy, creative and secure group of people – all sharing a summer of discovery, growth and friendship together! The confidence and security we each need to learn, laugh and love with others is only possible here because of the structure and supportive environment that is created by community members. We believe that well trained staff members are more capable of delivering FUN! As such, we facilitate their efforts by assigning the same staff to work with the same groups of campers, all summer long. This way they can plan accurately for varied skill levels within groups and focus on individualizing progress, goals and learning – increasing success and enjoyment. Well trained and well supported staff can also more effectively guide children with varying social skills and emotional needs. Committed senior staff and hands-on directors help 'pull it all together'. Finally, without community agreement on the clearly defined set of values that we aspire to uphold together, the FUN we have would be more sporadic and less likely to be universal or inclusive!
As you peruse this website you will see snapshots of the incredible FUN we have here, as well as gain a sense of the continuing connection to Camp that people feel, along with the joy and friendship that fills the hearts and minds of the Wawenock Camp Family, all year round. Enjoy!